Jiangsu Jincai Polymer Materials Science And Technology Co., Ltd. is located in Changzhou, Jiangsu, adjacent to Nanjing and Yangzhou.
Under this circumstance, our company pays great attention to the situation of the epidemic, and takes protective measures as soon as possible, purchases a large number of protective equipment such as masks and disinfectants, and disinfects the production and office areas several times a day.
The epidemic is responsibility, and prevention and control are commands,General Secretary Xi Jinping once emphasized.
In the face of sudden epidemics, the company cares about the life safety of every employee, and quickly takes measures to put the life safety of employees first.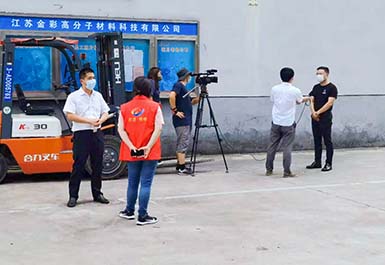 Facing the epidemic, everyone is united.In this "epidemic" war, we are confident that we will win the final victory.
Jiangsu Jincai Polymer Materials Science And Technology Co., Ltd.is focus on producing and selling PET、PETG、CPET、GAG、PVC、PC、PLA、CPLA materials,The materials are environmentally friendly, degradable, and recyclable. It is widely used in food packaging, daily necessities packaging, craft gift packaging, hardware tool packaging, electronic product packaging; at the same time as a printing substrate, furniture panel substrate, etc.
During the epidemic, the PET protective masks and baffles produced by our company played an important role in epidemic prevention.
● Some tips to protect yourself
1.Wear a mask, wash your hands frequently, and keep a suitable distance
2.Real-time updates of travel codes and health codes,showing the of travel codes and health codes
3.If from a high-risk area, consciously report the real situation and self-isolation
4. Consciously abide by community or government epidemic prevention regulations
Showing our respect to all the heroes in the front line.